OEM/ODM China China CNC Machine Router Waterjet Cutting Machine
Description and Parameters
Cutting Head
CNC Control & Software
Details Photos
High pressure pump
Product Tags
Our company has been concentrating on brand strategy. Customers' pleasure is our greatest advertising. We also source OEM service for OEM/ODM China China CNC Machine Router Waterjet Cutting Machine, Our corporation has been devoting that "customer first" and committed to helping consumers expand their organization, so that they become the Big Boss !
Our company has been concentrating on brand strategy. Customers' pleasure is our greatest advertising. We also source OEM service for China CNC Engraving Machine, CNC Router Machine, We also provide OEM service that caters to your specific needs and requirements. With a strong team of experienced engineers in hose design and development, we value every opportunity to provide best products and solutions for our customers.
Quickly Details:
Type:CNC Waterjet cutting machine
Brand:Sanlian Heavy Industry
Condition:100% brand new
Model number:YCWJ
Consist: HP System / Cutting table / CNC Controller
Voltage:110V-600V
Painting Color:Yellow & Blue /Yellow & Grey / Yellow & Black / Red&Black
Place of origin:Wuxi , China(Mainland)
The advantage of Waterjet cutting machine
1) Can be transfer the drawing to cutting quickly
2) Quickly position-some or few fixing equipments
3) High accuracy-reduce the re-cutting
4) Quicker cutting speed
5) In no need of fabrication for the working parts
6) Safer for the operator and circumstance steam, dust , smog,etc
7) Cool cutting-no heat will be produced
8) Clear processing, in no need of clear the working parts again
9) Good cutting finishes-in no need of application the cutting finishes again
10) Narrow cutting gap
11) Quickly calibration and easier versatility way of cutting. It has been proved that it can be used
In mass production in the ideal system
12) Fit for CAD/CAM software
13) Waterjet cutting machine can cut almost all the material. It can cut the thickness max to 200mm
Brand Using
---
Next:
---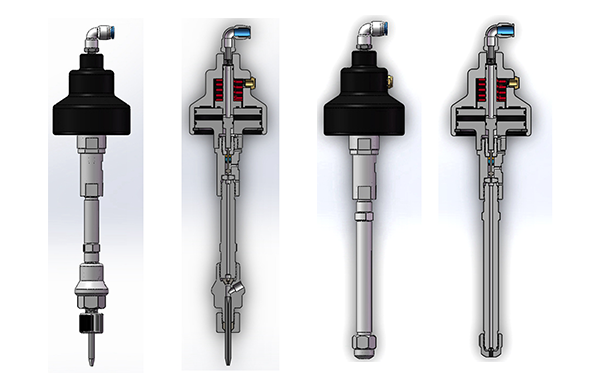 Overview
1) Ultra-high pressure water jet is divided into sand-based cutting and pure water cutting two main.
2) (Such as carbon, stainless steel, etc.), non-ferrous metals (such as copper, aluminum, titanium alloy, magnesium alloy, etc.), stone, glass, large thickness of composite materials (such as carbon fiber, glass fiber) and so on.
3) Pure water cutting mainly for rubber, foam, cloth, paper, rock wool, food and so on.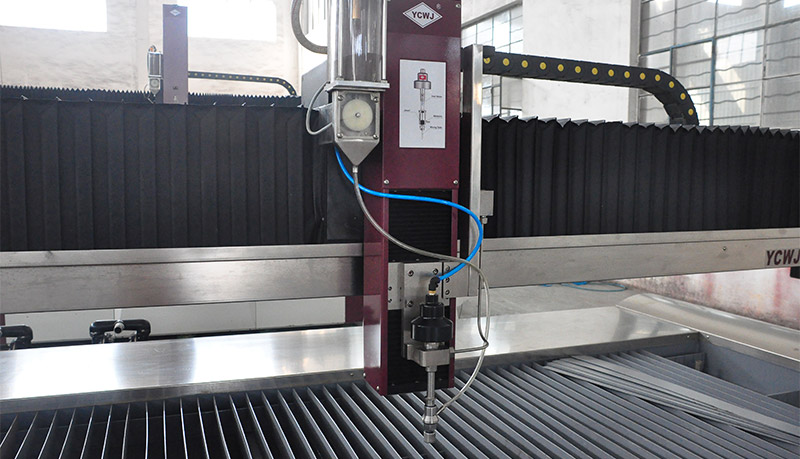 Structure features of Standard waterjet:
A high pressure water jet cutting machine is a tool used for slicing metal and other materials using a jet of water at high velocity and pressure. Featuring a low noise, no pollution, high precision and high reliability, our water jet cutting machine has been used in a variety of applications, including mining, automobile manufacturing, paper manufacturing, food, art and architecture. Water jet machines can be used to cut rubber, foam, plastic, composite, stone, tile, marble, glass and other materials.
CNC Specification
Number of Axes Supported
3-5axis
Control Signals
Plus Frequency
1MHZ
Control Mode Position control
Control Signal
Differential signals
Position Signal Type
Plus+Direction
Communication
External
PCI Interactive with Lambda
PHOENIX bus
Spindle
Analog Voltage Output
0-10V
Tool Measurement
Tool Measurement Mode
Fixed calibration, Mobile calibration,First calibration & Calibration after tool change
Compensation
Compensation Type
Screw error compensation, Backlash compensation, AQE compensation, Tool compensation
Toolpath File
Supported File Format
*.g/*.nc/*.u??/*.demo/*.iso/*.eng/*.cut/*.dxf/*.plt/*.txt
Operations
WCS
Supporting WCS G54-G59 and Work Zero saving
Processing Technology
Array, Mirror&rotate, Cycle machining
Convenient Operation
Handwheel guide, Breakpoint resume, Tool selection
High-speed High-precision Optimization
Interpolation Algorithms
T-type, S-type and LEP algorithms
Software Language
Chinese, English
Safety & Reliability
Sofeware Alarms
Alarms of program error, operation error, over-travel error, PLC error, and IO communication error
Specification parameters