Shipping by sea has fully resumed in May, and our shipments are all going well.
Two 20-ton standard positioners ordered by Canadian customer, we completed the delivery in 45 days!
In order to cooperate with the customer's upcoming production line, we communicated the plan and made a precise design.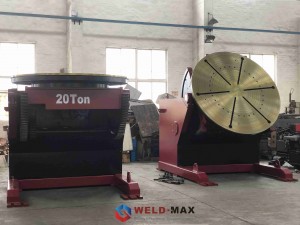 Workpieces can be welded by welding positioners, which rotate 360 degrees at a constant speed of your choice so that you can weld safely and quickly. Apart from rotating, it can be pitched up to a 90 degree angle, improving functionality and mobility.
Welding positioners not only increase safety by eliminating worker fatigue, but also result in higher quality welds, making them an advantageous investment. We have a wide selection of positioners in stock that can lift 300kg to over 50,000 kg. For those who need a higher capacity, we also offer custom sizes.
Our HBJ series Welding positioners reduce the amount of stress put on their operators. They can rotate a piece 360 degrees, so they can make adjustments with less time and effort.
The positioners can handle weights from 300kg to 50,000kg, and are designed for a wide range of operations. Pendant controls allow for variable speed control on these models.
There are six slots in the table for securing the part to be welded and brush ground and adjustable limit switches.
During rotation, a rotation motor feeds into two oil bath gear reducers, while a tilting motor feeds into two oil bath gear reducers. In everyday welding, we offer the HBJ Positioner line, which combines productivity, safety and durability.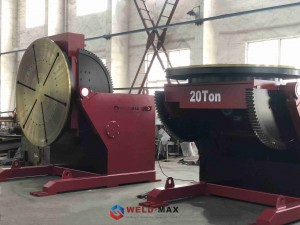 In addition, we also provide elevating positioner and hydraulic positioner.
With our Elevating Welding Positioners, you can control your work pieces with greater precision. Table height, rotation, and pitch can all be controlled manually or with a Numeric Control.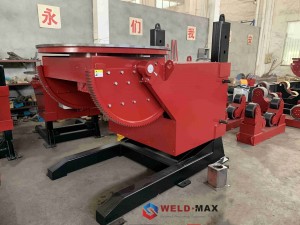 Weld positioners that use hydraulics are one of the most precise options available to achieve flawless welds.
By using an elevated worktable, this positioner helps you position your work piece in the most ideal spot, and when the weldment is secured, it allows you to maintain maximum quality.
As well as adjusting the height, the operator can work on multiple parts simultaneously. With an inverter, the speed can be controlled to provide the most precise rotation.
The weld positioners have a remote control so that operators of any experience level can perform high-quality, professional welding.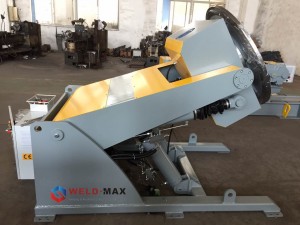 By manually adjusting our weld positioners, we guarantee great stability for shafts, plates, cylinders, and other materials.
With a steel fabrication, these models are free-standing and strong, designed to reduce vibrations and elastic deformations.
A sturdy worktable with height and pitch adjustments can be moved manually for your preferred placement and speed. You can get excellent welding quality at an affordable price with these weld positioners. You can choose from a variety of models in various sizes to suit your welding needs.
Send your message to us:
---
Post time: Jun-09-2022