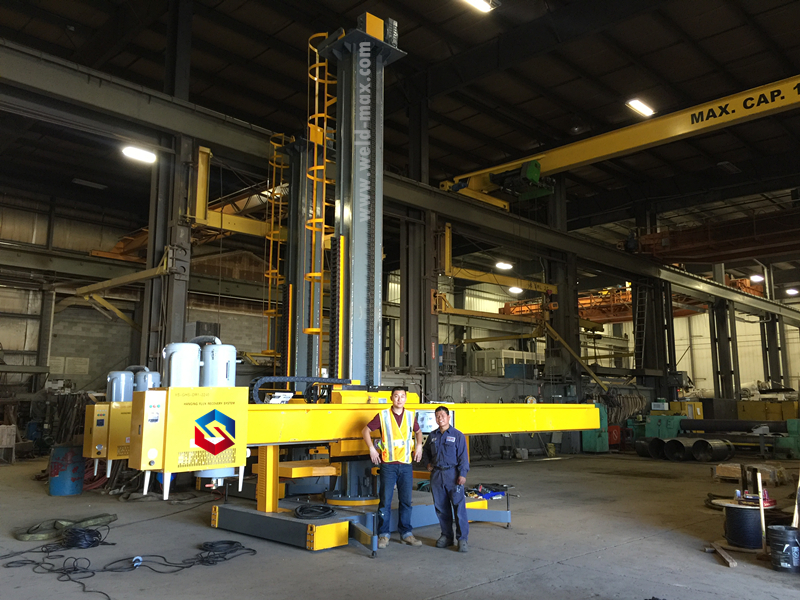 Date: 10th,Nov 2016
Country: Toronto,ON Canada
Project name: 2sets of LH-5070 Welding Manipulator with CSA certificate
Detailed Description: This project start at the beginning of 2015,end  on 29th,Sep 2016. After Chinese new year in 2015, we got an inquiry from Canada. Customer want to purchase 2sets of 5x7 welding manipualtor , but they need all electrical with CSA and CUL certificate. After one year communication. Finaly in the year of 2016 , we got the downpayment from the customer.
It is a very diffcult project and great challenge for Sanlian Heavy Industry , Because the machine export to Canada, must have CSA or CUL certificate.So it is a tough project for our electrical director Mr.Hou. But we actively contact with customers, so make everything more easy.
During the summer , Tony the owner of that company and Mrs Sun the general manager of that company came to Wuxi visit us to test the two sets of welding manipulator. They are very happty to met us in real and especially saw their machine stand in our workshop.They invited us to come to Canada to help them do the installation.
On 10th,Sep 2016 , Mr.Jason and Mr.Hou flew to Toronto,Canada to help our customer do the installation. It spent us 20days to finish job , finaly we finish the project , and customer are very happy with our hard work and machine's quality.We thank for the support from Dante , a Filipino works for Tony.Gave us lots of support and also took us to Niagara falls.
Thanks to Tony, Sun and Dante, to make us a good trip in Canada.