In many large-scale production projects, the efficiency of automation brings convenience to production.
Reduce manual operation, more accurate and fast.
In projects such as welding foundation pipes, wind towers, etc., automated welding is most often chosen.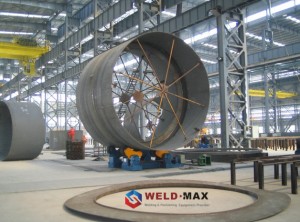 Common combination of automatic welding, welding rotator with welding manipulator.
The welding rotator drives the cylinder to rotate at a constant speed, and the Boom of the welding manipulator adjusts the appropriate height and distance to weld the cylinder that rotates at a uniform speed.
We offer welding rotators, or tank turning rolls as they are sometimes referred to, which are highly popular. Workpieces can range from as small as 9″ to as large as 216″, providing a wide range of compatibility. Through a bolt-shift positioning system, Tank Turning Rolls allow for precise adjustments to be made manually as needed, thereby allowing for a variety of roll spacings. On the other hand, smaller capacity rotators have a turn-screw that moves the wheels into position. There are many custom designs available to ensure that your tank turning roll meets all of your needs.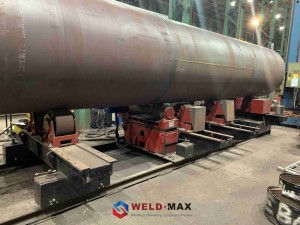 A self-adjusting welding rotator is different from ones that can be adjusted in that it automatically adjusts to the diameter of the tank, using steel and/or rubber wheels to provide the smoothest, most stable roll possible. Because each wheel angle adjusts as needed, these wheels are ideal for projects with minimal diameter variations. Four gears in the motor drive the four wheels, making even heavy pieces turn smoothly and efficiently.
Tank turning rolls from Weld-Max are self-adjustable depending on the size of the work piece, so each pair of wheels can adjust to fit a variety of cylinder diameters. With capacities ranging from 9 inches to 216 inches in diameter, our tank turning rolls can support small or large cylinders.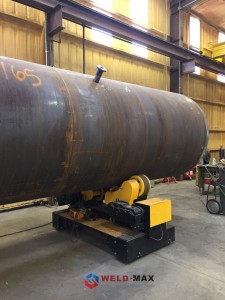 With our Welding Manipulators, we can reach seams and joints that are hard to reach. A Fixed Type, Fixed with Rotation, and Traveling Type with Rotation are the three types we offer. All models include an arm that can raise, lower, and move along the main shaft. This permits welds on large projects such as tanks to be made on difficult to reach joints. As the shaft rotates, the fixed type with rotation can further expedite the process. With the Traveling with Rotation manipulator, welding is more efficient and faster since it moves from point to point on tracks.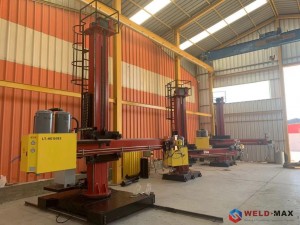 Automatic control units on the column control the unit. You can customize your unit with additional features such as TV monitors, cooling systems, seam tracking systems, and flux recovery systems.
Three types of column-boom manipulators are available from Weld-Max to help you extend your lift and reach:
* Fixed
* Fixed with Rotation
* Travel with Rotation
There is no job that is too hard or too big for our welding manipulators. Welding with our boom can be done on hard-to-reach joints like tank seams inside or large tank perimeters of longitudinal and traverse seams. Using an automatic control unit located on the column, the welding operator controls the process.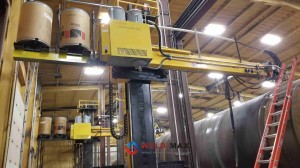 Send your message to us:
---
Post time: Jun-17-2022